Immunohistochemistry Resource Guide
Not enough time read now ?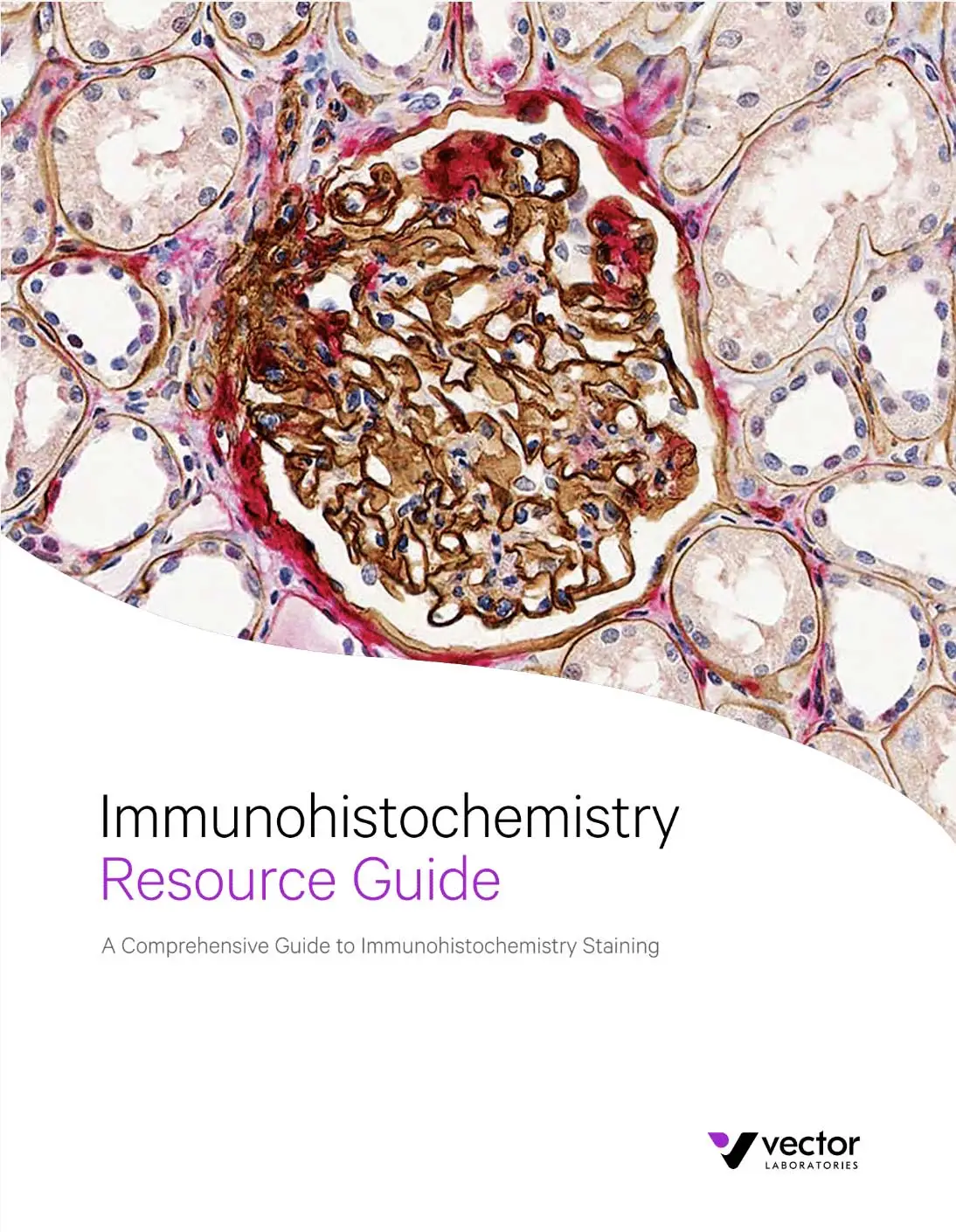 Customizing your VECTASTAIN® ABC Kit
If a VECTASTAIN ABC system is not available with a biotinylated secondary antibody of your required specificity, you can custom-build the exact kit that you require. All of our biotinylated, affinity-purified secondary antibodies are designed for use with VECTASTAIN ABC Standard Kits and the appropriate blocking serum. Our mix-and-match kit components allow you to both design a custom kit to suit your needs and to use kit components interchangeably. The reagents can be purchased individually, allowing you to combine them to suit your specific needs.
For example, to make a VECTASTAIN Elite® ABC Kit for use with a mouse IgG primary antibody on rat tissues:
Choose the VECTASTAIN ABC Kit that contains the desired detection enzyme but with no secondary antibody (e.g. VECTASTAIN Elite ABC Kit, Standard).
Choose the biotinylated secondary antibody (e.g. biotinylated horse anti-mouse IgG, rat adsorbed).
Choose the blocking solution. We recommend a serum from the same species as the secondary antibody. (In our example, normal horse serum). Alternatively, select our animal-free blocking reagents for multiple antigen labeling (multiplex) IHC applications where antibodies from different species and a variety of detection systems are used on the same tissue section.
1. Choose Standard VECTASTAIN ABC Kit with the appropriate detection enzyme
2. Choose the biotinylated secondary antibody*
| Product | Concentrate | R.T.U.† |
| --- | --- | --- |
| Anti-Goat IgG (H+L) made in rabbit, biotinylated | BA-5000-1.5 | |
| Anti-Goat IgG (H+L) made in horse, biotinylated | BA-9500-1.5 | BP-9500-50 |
| Anti-Human IgG (H+L) made in goat, biotinylated | BA-3000-1.5 | |
| Anti-Mouse IgG (H+L) made in horse, biotinylated | BA-2000-1.5 | BP-2000-50 |
| Anti-Mouse IgG (H+L) made in horse, rat adsorbed, biotinylated | BA-2001-.5 | |
| Anti-Mouse IgG (H+L) made in goat, biotinylated | BA-9200-1.5 | BP-9200-50 |
| Anti-Mouse IgM (H+L) μ chain specific, made in goat, biotinylated | BA-2020-.5 | |
| Anti-Rabbit IgG (H+L) made in goat, biotinylated | BA-1000-1.5 | BP-9100-50 |
| Anti-Rabbit IgG (H+L) made in horse, biotinylated | BA-1100-1.5 | BP-1100-50 |
| Anti-Rat IgG (H+L) made in rabbit, biotinylated | BA-4000-1.5 | |
| Anti-Rat IgG (H+L) made in rabbit, mouse adsorbed, biotinylated | BA-4001-.5 | |
| Anti-Rat IgG (H+L) made in goat, biotinylated | BA-9400-1.5 | BP-9400-50 |
| Anti-Rat IgG (H+L) made in goat, mouse adsorbed, biotinylated | BA-9401-.5 | |
| Universal Anti-Mouse/Rabbit IgG (H+L) made in horse, biotinylated | BA-1400-2.1 | BP-1400-50 |
| Universal Pan-Specific Anti-Mouse/Rabbit/Goat IgG (H+L) made in horse, biotinylated | BA-1300-2.2 | |
3. Choose the blocking solution