Immunohistochemistry Resource Guide
Not enough time read now ?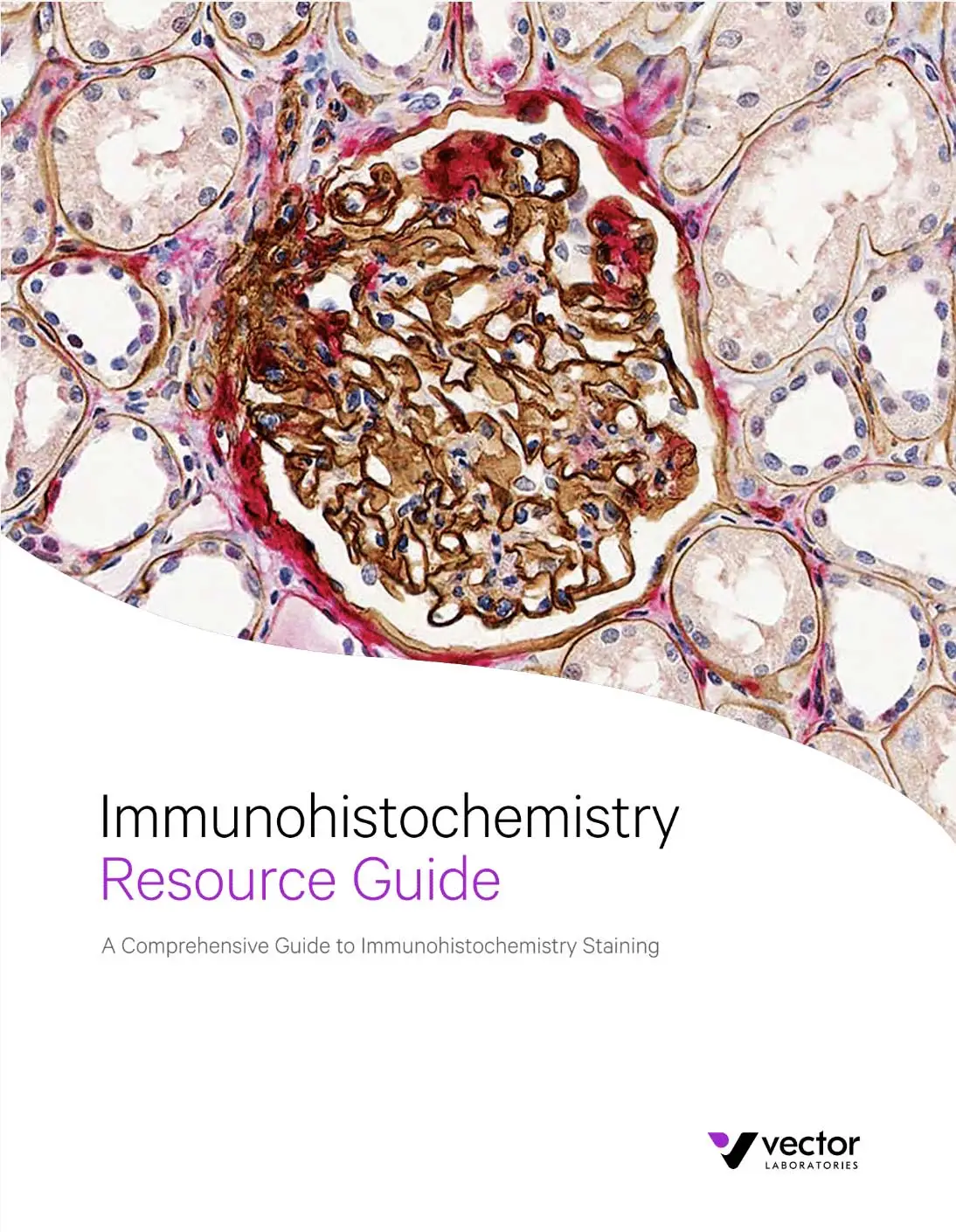 Peroxidase-Based Kits:
Peroxidase substrates produce sharp, dense precipitates with crisp localization. In conjunction with the high sensitivity and low background of VECTASTAIN ABC Systems, peroxidase-based detection systems are a preferred choice for many applications. (
see peroxidase substrates
)
VECTASTAIN Elite® ABC System (Peroxidase)
The VECTASTAIN Elite ABC complex is smaller and more uniform than conventional avidin-biotin complexes. They have greater accessibility to biotinylated targets within tissue samples. VECTASTAIN Elite ABC Kits are our most sensitive avidin-biotin based peroxidase systems.
Highest available sensitivity, low background
Cost effective: Higher sensitivity means lower cost per slide
Available without (Standard Kit) or with biotinylated species-specific or universal secondary antibodies
Available in ready-to-use formats that yield the same high sensitivity and low background as the corresponding conventional VECTASTAIN ABC Kit reagents.
Original VECTASTAIN ABC Kit (Peroxidase)
Our original avidin-biotin ABC complex formulation.
Good sensitivity, low background
Available with or without biotinylated species-specific secondary antibody
Economical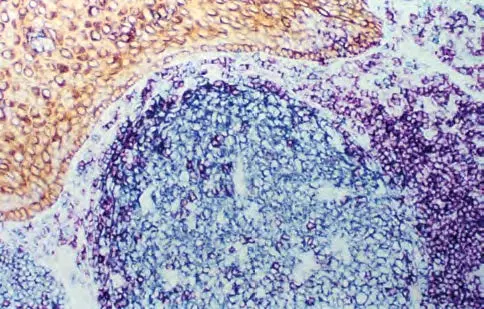 Tonsil: • Multi-Cytokeratin (m), VECTASTAIN Elite ABC Kit, Vector® DAB (brown) • CD3 (m), VECTASTAIN Elite ABC Kit, Vector VIP (purple) • CD20 (m), VECTASTAIN Elite ABC Kit, Vector SG (blue-gray).
With VECTASTAIN Universal Quick Kits, you can quickly detect primary antibodies made in mouse, rabbit, or goat. These kits rely on a proprietary preformed peroxidasestreptavidin complex to achieve outstanding sensitivity with short incubation times.
Rapid protocol: Staining in less than 20 minutes following primary antibody incubation. Working solutions can be used immediately after dilution.
High sensitivity, low background
Biotinylated Universal Pan-Specific secondary antibody recognizes mouse, rabbit, and goat primary antibodies, as well as those from related species such as rat, bovine, and sheep. (Do not use to stain rat, mouse or other rodent, rabbit, goat, bovine, or sheep tissue due to potential reactivity with endogenous IgG.)
Available in concentrate or ready-to-use format
Alkaline Phosphatase-Based Kits:
The sensitivity of the VECTASTAIN ABC-AP system is comparable to that of the peroxidase VECTASTAIN Elite ABC system. You may prefer to use VECTASTAIN ABC-AP Kits for tissues that have high endogenous peroxidase activity. The system also offers additional substrate color choices. (See alkaline phosphatase substrates) 
| Product | Elite® (Peroxidase) | Original (Peroxidase) | Quick (Peroxidase) | Alkaline Phosphatase |
| --- | --- | --- | --- | --- |
| VECTASTAIN® ABC Kit, Standard | PK-6100 | PK-4000 | | AK-5000 |
| VECTASTAIN® ABC Kit, Rabbit IgG | PK-6101 | PK-4001 | | AK-5001 |
| VECTASTAIN® ABC Kit, Mouse IgG | PK-6102 | PK-4002 | | AK-5002 |
| VECTASTAIN® ABC Kit, Mouse IgM | | PK-4010 | | |
| VECTASTAIN® ABC Kit, Human IgG | PK-6103 | PK-4003 | | |
| VECTASTAIN® ABC Kit, Rat IgG | PK-6104 | PK-4004 | | AK-5004 |
| VECTASTAIN® ABC Kit, Goat IgG | PK-6105 | PK-4005 | | |
| VECTASTAIN® ABC Kit, Sheep IgG | PK-6106 | PK-4006 | | |
| VECTASTAIN® ABC Kit, Guinea Pig IgG | | PK-4007 | | |
| VECTASTAIN® ABC Kit, Universal | PK-6200 | | | AK-5200 |
| R.T.U. VECTASTAIN® ABC Reagent | PK-7100 | | | |
| R.T.U. VECTASTAIN® ABC Kit, Universal | PK-7200 | | | |
| R.T.U. VECTASTAIN® Universal Quick Kit | | | PK-7800 | |
| VECTASTAIN® Universal Quick Kit (concentrate) | | | PK-8800 | |