Description
MB 680R DBCO is a bright and very photostable probe used for imaging of azide-containing biomolecules without the need for copper catalyst. MB 680R DBCO reacts with azides via a copper-free "click chemistry" reaction to form a stable triazole and does not require Cu-catalyst or elevated temperatures. In application where the presence of copper is a concern MB 680R DBCO is an ideal alternative to copper requiring fluorescent alkynes.
MB 680R is a bright and photostable near IR dye that emits fluorescence at about 700 nm in the borderline spectral region between far-red and near-IR. MB 680R dye is water soluble and pH-insensitive from pH 4 to pH 10. MB 660R is a rhodamine-based dye, and like rhodamine dyes in general, it is very bright and exceptionally photostable (Figure 1). The superior photostability and excellent brightness of MB 680R makes this dye an ideal for confocal microscopy, single molecule imaging and other applications that demand both brightness and photostability.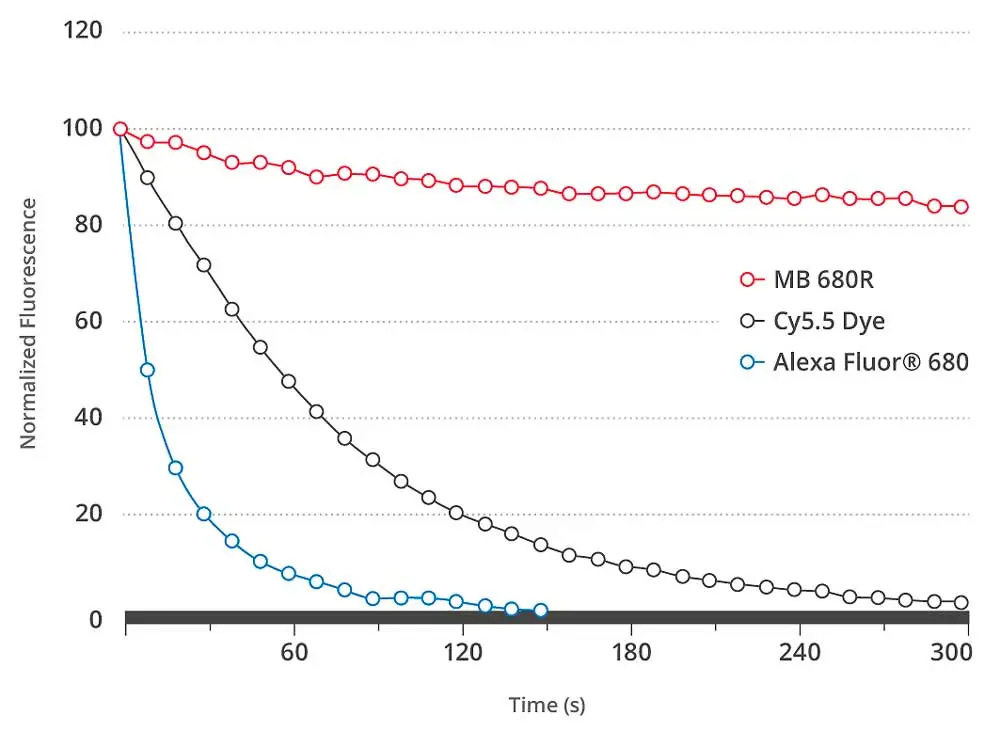 MB 660R dye spectrally is almost identical to CF® 680R Dye and can be used a less expensive alternative to these dyes.
MB 660R DBCO reagent is not suitable for staining intracellular components of fixed and permeabilized cells due to high backgrounds.
CF® Dye is a registered trademark of Biotium.