Description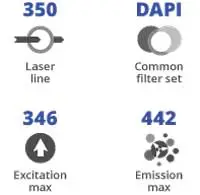 AZDye™ 350 Acid is an amine reactive, non-activated, water-soluble, blue-emitting dye used for derivatizing amine-containing molecules in the presence of activators (e.g. EDC or HATU) through a stable, covalent amide bond. The NHS ester (or succinimidyl ester) of this dye is also available for conjugating AZDye™ 350 to the primary amines of proteins or antibodies (Lys), amine-modified oligonucleotides, and other amine-containing molecules.
AZDye™ 350 is a moderately photostable, blue-fluorescent probe optimally excited by the 350 nm laser line routinely used for producing bright, blue fluorescent conjugates for imaging and flow cytometry. The emission of AZDye™ 350 conjugates is slightly shorter than that of AMCA or AMCA conjugates, reducing AZDye™ 350's spectral overlap with the emission of fluorescein or Alexa Fluor® 488 dye.
AZDye™ 350 dye structurally is identical to Alexa Fluor® Dye 350.