Adding efficiency and convenience to multiplexing workflows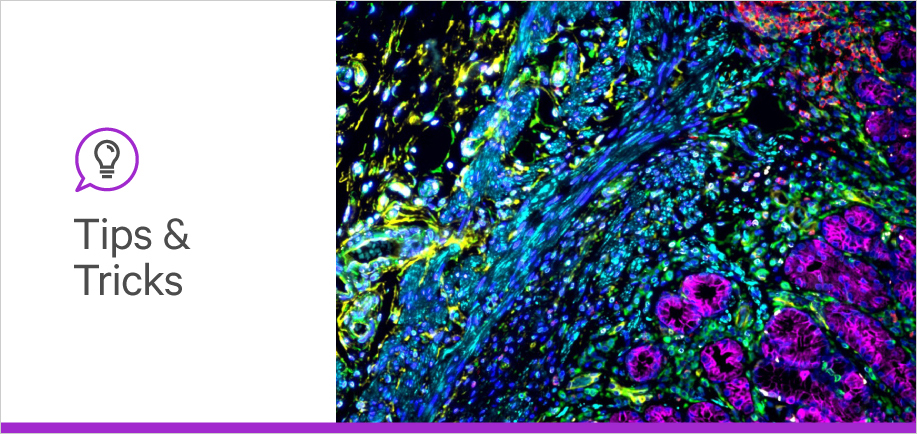 Multiplexing has revolutionized immunostaining workflows. It allows the simultaneous detection of multiple targets in the same tissue section and empowers scientists to gather more data while sparing precious samples. But issues with cross-reactivity between reagents can hinder the ability to perform simultaneous double or triple staining. When these issues arise, scientists can use the VectaPlex™ Antibody Removal Kit to do multiple rounds of labeling and perform multiplexing experiments.
Unique advantages of VectaPlex
VectaPlex is a game changer for scientists performing experiments that require antibody removal. Most current methods to achieve this goal are aggressive and can damage the tissue. But the VectaPlex kit comprises gentle reagents that effectively remove antibodies while preserving tissue integrity. In only 25 minutes, scientists can have the tissue section ready for another round of staining. VectaPlex enhances multiplexing workflows by integrating the following advantages:
Convenience. VectaPlex Antibody Removal Kit comes with convenient ready-to-use reagents. This seamless approach eliminates the need for complex protocols and saves precious time and resources.
Tissue integrity. VectaPlex formulation is tailored for formalin-fixed paraffin-embedded tissue sections, ensuring their integrity. Reagents effectively remove antibodies from tissue sections at room temperature, eliminating the need for microwave or pressure cookers. Keeping specimens from high-temperature incubations further contributes to optimal tissue preservation. VectaPlex is suitable for even the most sensitive tissues, like lung, skin, and breast, guaranteeing repeated use without quality compromise. 
Efficiency. VectaPlex's gentle approach to antibody removal secures consistent results. Reagents in the kit promote efficient antibody removal, minimizing interference in the staining and enhancing signal specificity. Complete removal of antibodies at each step of multiple rounds of labeling translates into more reliable and reproducible results.
Enhanced multiplexing. The combination of tissue integrity with effective antibody removal allows for repeated rounds of staining without compromising the quality of the sample. VectaPlex allows up to 6 rounds of staining, empowering scientists to maximize the potential of multiplexing experiments, investigate a wide range of targets within the same sample, and dive deeper into biological processes.
Flexibility. VectaPlex is compatible with both immunofluorescence and tyramide signal amplification workflows, offering unparalleled versatility.
Real-world benefits for the user
VectaPlex directly addresses common challenges scientists face in the laboratory. Cross-reactivity between staining reagents often gets in the way of successful multiplexing experiments. But VectaPlex tackles this issue head-on. Scientists can perform up to 6 rounds of multiple labeling and answer more complex research questions than those they would address with concomitant double or triple labeling.
Limited tissue sample is another factor that often hinders data gathering. But VectaPlex combines efficient antibody removal with tissue preservation to offer a practical solution to this problem. Scientists can use VectaPlex to target multiple proteins and answer different research questions even when tissue samples are scarce.
VectaPlex also streamlines time-intensive multiplex optimization. Ready-to-use reagents eliminate the need for cumbersome preparation steps. Each round of antibody removal only takes 25 minutes, simplifying the process and saving precious time.
Finally, VectaPlex protects precious samples from unintentional human errors. If the antibodies can be easily removed, incubating tissue sections with the incorrect antibody no longer renders the specimen unusable. With VectaPlex, scientists can easily fix unintended mistakes and restart the staining workflow without damaging the sample.
The VectaPlex Antibody Removal Kit brings an innovative and reliable solution to multiplexing workflows that require antibody removal. By simplifying workflows, preserving tissue integrity, and delivering consistent results, VectaPlex empowers scientists to gather more data, even in the face of cross-reactivity issues or with limited or sensitive tissue sections. For a more efficient and reliable multiplexing experience, consider VectaPlex as a practical solution to recurring challenges.
For additional insights and resources on enhancing your multiplexing processes, check out the VectaPlex product page, Immunohistochemistry Multiplexing Guide, the Immunofluorescence Resource Guide, and other pieces on the blog.