Description
ChromaLINK Biotin contains a UV-traceable chromophore based on ChromaLINK technology, which enables reproducibility in your biotinylation process. Now you can measure the degree of biotinylation in minutes, not hours, without the standard curves required for HABA/avidin and fluoro-reporter assays. With a simple UV scan, you can quantify biotin incorporation and ensure reproducible production of consistent batches.
Technical Information
Introduction to ChromaLINK Labeling Technology
ChromaLINK Biotin has been engineered to include many novel features. As illustrated in Figure 1, the molecule's structure contains a bis-arylhydrazone chromophore (a), linked by a PEG3 linker arm (b), to biotin (c). This reagent permits direct spectroscopic quantification of incorporated biotin. The extended PEG3 linker preserves biotin/streptavidin affinity and maintains protein solubility after modification while the succinimidyl ester functional group (d), efficiently modifies lysines in aqueous buffers.

Figure 1. Molecular structure of ChromaLINK Biotin

Labeling of proteins with ChromaLINK Biotin eliminates the need to carry out cumbersome and time-consuming HABA assays often employed to quantify biotin incorporation. Instead, biotin incorporation is quantified by means of a simple spectrophotometric measurement at two wavelengths (A280 / A354). Typical labeling results are illustrated in Figure 2 by spectral overlay scans of four samples. As illustrated, bovine IgG (100 ul @ 5 mg/ml) was labeled at 0, 5, 10, and 15 mole equivalents using ChromaLINK Biotin. Spectral analysis illustrates how easy it is to visualize, confirm, and quantify biotin incorporation.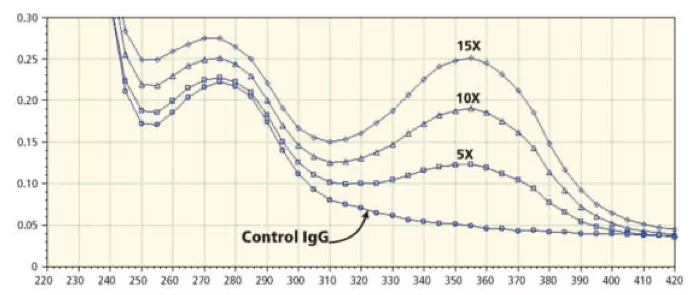 Figure 2. Superimposed spectra of bovine IgG biotinylated using ChromaLINK Biotin. Various biotin-to-protein mole equivalents (5X, 10X and 15X) were used. Note the UV-signature at 354nm indicating incorporation of biotin. All spectra were scanned on a Molecular Dynamics SpectraMax PlusTM UV-VIS plate reader (220-420 nm).
Legal Information
SoluLINK® Bioconjugation For Research Use Only. Not for use in diagnostic procedures. For additional licensing restrictions, please see the license agreement at vectorlabs.com/solulink-research-license.
Products are for research use only, not for use in diagnostic or therapeutic procedures or for use in humans. Products are not for resale without express written permission of Seller. No license under any patent or other intellectual property right of Seller or its licensors is granted or implied by the purchase unless otherwise provided in writing.