Description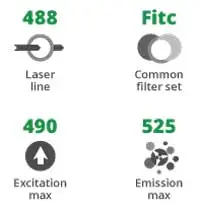 AZDye™ 488 NHS Ester is an amine reactive, green-emitting dye routinely used to label proteins or antibodies through primary amines (Lys), amine-modified oligonucleotides, and other amine-containing biomolecules. The labeling occurs most efficiently at pH 7-9 and forms a stable, covalent amide bond.
AZDye™ 488 is a water-soluble, highly photostable dye with a very high fluorescence quantum yield. AZDye 488 has green fluorescence that is pH independent from pH 4 to pH 10 with excitation ideally suited for the 488 nm laser line. AZDye™ 488 dye can be conjugated to a variety of antibodies, peptides, proteins, tracers, and amplification substrates which are often used for generation of stable signals in imaging and flow cytometry.
AZDye™ 488 Ester is structurally identical to Alexa Fluor® 488 NHS Ester. Its absorption/emission spectra is a perfect match to spectra of many other fluorescent dyes based on sulfonated rhodamine 110 core, including DyLight® 488, Alexa Fluor® 488, and CF® 488 Dye.
Protein Labeling Calculator
[protein-labeling-calculator]