Description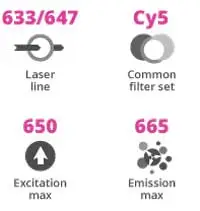 AZDye™ 647 Hydrazide is a bright, far-red-fluorescent dye that often used for labeling aldehydes or ketones in polysaccharides or glycoproteins. AZDye™ 488 Hydrazide is useful as low molecular weight, membrane-impermeant, aldehyde-fixable cell tracers, exhibiting brighter fluorescence and greater photostability than cell tracers derived from other spectrally similar fluorophores.
AZDye™ 647 (Alexa Fluor ® 647 analog) is a water-soluble, bright, far-red-fluorescent dye with excitation ideally suited for the 633 nm or 647 nm laser lines. A significant advantage to using long wavelength dyes such as Cy5 or AZDye™ 647 dye over other fluorophores is the low autofluorescence of biological specimens in this region of the spectrum.
AZDye™ 647 is structurally similar to Alexa Fluor® 647, and spectrally is almost identical to Cy5 Dye, Alexa Fluor® 647, CF® 647 Dye, or any other Cyanine5 based fluorescent dyes.
Protein Labeling Calculator
[protein-labeling-calculator]