Description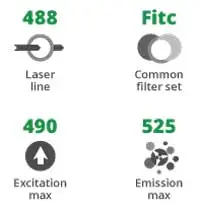 AZDye™ 488 TFP Ester (Alexa Fluor® 488 TFP Ester equivalent) is an amine reactive, green-emitting dye routinely used to label proteins or antibodies through primary amines (Lys), amine-modified oligonucleotides, and other amine-containing biomolecules. The labeling occurs most efficiently at pH 7-9 and forms a stable, covalent amide bond. AZDye™ 488 conjugates are highly photostable dyes with very high fluorescence quantum yields.
TFP (tetrafluorophenyl) ester is an amine-reactive activated ester that reacts with primary amines of biomolecules in the same way as the succinimidyl ester (SE or NHS-ester) to form a stable amide bond. The major advantage of TFP esters over the succinimidyl ester is better resistance to spontaneous hydrolysis during conjugation reactions, which results in more efficient and reproducible labeling of biopolymers. TFP esters are stable for several hours at the basic pH typically used for reactions–far outlasting succinimidyl esters.
AZDye™ 488 dye structurally is identical to Invitrogen's Alexa Fluor® 488 dye.
Protein Labeling Calculator
[protein-labeling-calculator]