Description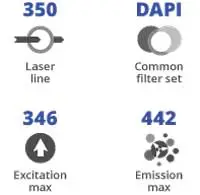 AZDye™ 350 NHS Ester (Alexa Fluor® 350 NHS Ester equivalent) is an amine reactive, water-soluble, blue-emitting dye used to specifically and efficiently modify a primary amine (e.g., side chain of lysine residues or aminosilane-coated surfaces) at pH 7-9 to form a stable, covalent amide bond. The NHS ester (or succinimidyl ester) is the most popular tool for conjugating dyes to the primary amines of proteins or antibodies (Lys), amine-modified oligonucleotides, and other amine-containing molecules.
AZDye™ 350 is a moderately photostable, blue-fluorescent probe optimally excited by the 350 nm laser line routinely used for generation of stable signal in imaging and flow cytometry. The brightness and photostability of blue dyes are best suited to direct imaging of high-abundance targets.
AZDye™ 350 NHS Ester is structurally identical to Alexa Fluor® 350 NHS Ester.
Protein Labeling Calculator
[protein-labeling-calculator]