Use the following accessories in slide preparation in Immunohistochemistry (IHC), Immunocytochemistry (ICC), in situ hybridization, and Immunofluorescence (IF) applications.
The ImmEdge pen (H-4000) is an improvement over the PAP pen for tissue specimen preparation. Its hydrophobic barrier feature provides a stable, water-repellent barrier that keeps reagents localized on tissue specimens, preventing reagent mixing when multiple sections are mounted on the same slide.
Stable for use with buffers with and without detergent (Tween 20, Triton X-100, etc.)
Light blue barrier compatible with enzyme or fluorescence-based detection systems
Soluble in all commonly used clearing agents
Environmentally friendly – does not contain "ozone-depleting" substances as identified by the Montreal Protocol or the Council of the European Union
You can use this solvent-resistant permanent marking pen for writing on frosted glass microscope slides, tissue cassettes, and most hard surfaces.
High-density, fast-drying, black ink is resistant to most organic solvents, such as alcohols and clearing agents
Smooth writing tip that resists drying out
Designed to significantly increase the adherence of both frozen and paraffin-embedded tissue sections and cell preparations to glass slides and coverslips, this reagent chemically modifies the surface of the glass with positive charges to form a highly adherent surface.
Tissues remain attached even under extreme conditions such as high temperature antigen unmasking techniques and in situ hybridization
VECTABOND Reagent treated slides can be stored for long periods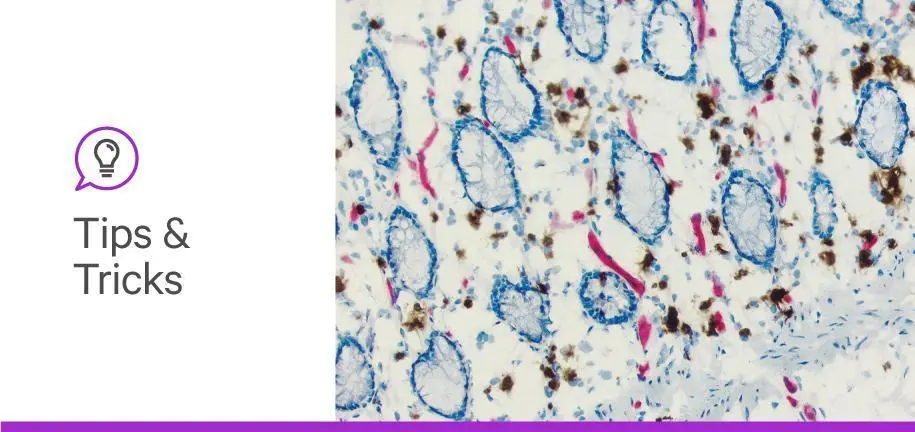 In this blog post, we cover 5 reasons you should add the ImmEdge® Hydrophobic Barrier PAP Pen from Vector Laboratories to your list of essential lab tools.
Read More
Producing immunofluorescence (IF) staining results with high specificity and sensitivity begins with choosing the best reagents. This guide will help you:
Learn about the IF workflow and how to optimize each step
Quickly identify and choose the most appropriate fluorescent secondary conjugates
Select the best anti-fade medium to preserve your fluorescence signal for imaging and archiving
Mounting, the last step in the IF workflow, is critical for tissue integrity, optical clarity, long-term storage, signal intensity, and fluorescence preservation. This IF mounting guide provides information to help researchers choose the best mounting medium for their project and offers tips to help reduce photobleaching during the image visualization process.
The Immunohistochemistry Resource Guide will help you navigate through the many choices of detection systems, substrates, and ancillary reagents that complete your workflow.