Description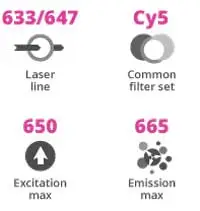 AZDye™ 647 is a water-soluble, bright, far-red-fluorescent dye with excitation ideally suited for the 633 nm or 647 nm laser lines. A significant advantage to using long wavelength dyes such as Cy5 or AZDye™ 647 dye over other fluorophores is the low autofluorescence of biological specimens in this region of the spectrum.
The NHS ester (or succinimidyl ester) is the most popular amine reactive group for labeling with the primary amines of proteins (Lys), amine-modified oligonucleotides, and other amine-containing molecules. Proteins can be labeled with AZDye™647 NHS Ester at high molar ratios without significant self-quenching, leading to brighter conjugates and more sensitive detection. AZDye™ 647 conjugates are often a probe of choice for detection of low abundance targets.
AZDye™ 647 is structurally similar to Alexa Fluor® 647, and spectrally is almost identical to Cy5 Dye, Alexa Fluor® 647, CF® 647 Dye, or any other Cyanine5 based fluorescent dyes.
Protein Labeling Calculator
[protein-labeling-calculator]